How's everyone doing? Happy quarantine, guys. Is it Day-9? I honestly can't even keep track of this since I've been spending most of my time at home even before all this Restricted Movement Order (RMO) or Movement Control Order (MCO) thingy.
As I mentioned in my previous post, I was on my semester break for one whole month. Besides going to Ipoh for a few days, all I did was sleep, eat, play games, cook, bake and watching movies. Repeat, every single day for that one freaking month. Lol. Since I'm too broke to go out, I just love being at home.
But now... guess what? I, myself, can't even believe that I'm still at home now. This week, this particular week, is supposed to be the 1st week of my 2nd Semester in medical school. Seriously. I'm supposed to be at college now, but yup, it's not happening. At first, it was quite 'exciting' to have some kind of extended semester break, but to rethink of it, there are lots of cons as well.
I've been really preparing physically and mentally to start my student life again after this full one month of holiday. It was not that easy, trust me. Don't get me wrong, I love my life as a student, it's just, I'm so going to miss home and those moments of doing absolutely nothing. No stress, no pressure, nothing! Anyway, yeah, I'm not going back to my university any time soon. Not until this pandemic is over. My preparation was a waste, I guess? Hahahah.
At first, before all this quarantine phase, most of the universities in Malaysia have started to cancel all physical classes and lectures, also all programs and activities. For my university (UPM), initially, there was going to be online classes or "kuliah maya" to replace all the canceled classes. So technically, I'm still starting my 2nd Semester this week, but at home. I'm still going back to my student life this week, it's just that I can be in pyjamas while listening to my lectures! Lol.
However, when the government announced the RMO / MCO, the university had to cancel everything, including the online classes. Can you believe that? As I said before, there are pros and cons of this. Pros; additional 2 weeks of holiday for us, woohoo! Cons; lots of classes to be replaced soon, meaning that our schedule is going to be even more packed, hence, more stress! Aha!
Yay or nay?
Then, the university decided that normal classes will begin on the 6th of April. But now... I guess everyone's aware that the RMO has been extended until 14th April. Ya Allah. I knew it. I knew they're going to extend it. Seeing the number of COVID-19 patients increasing by hundreds every day just scares me.

It makes me overthink a lot about what's going to happen next to all of us. Not just the students, but all Malaysians. So far, my university haven't release any statements yet. Hence, I don't even know when exactly I need to back in college. So many 'what if' questions playing around in my head.
It was quite frustrating for me at first. I'm really worried about my studies.
Nevertheless, I believe that everything happens for a reason. Maybe Allah is trying to show us something, maybe a lesson. Or maybe our planet just needs a break for a little while. Everything happens under Allah's plan, right? To all the COVID-19 patients out there, or anyone with a friend or relative that has been infected, please stay strong. May Allah bless you guys with better health.
Not to forget, shout out to all the front-liners out there who has been through a lot since the beginning. To all the doctors, nurses, volunteers, whoever you are, thank you so much for the sacrifice. May Allah protect all of you. May Allah reward you guys for all the good deeds.
The best thing that all of us can do now is just stay at home and pray. Stay at home, and pray. I know for some people, it's hard to not going out. I'm also getting super duper bored already, doing the same routine every single day. Still, this is the only way and the best that we could do to stop the spread of the virus. And also, don't forget to always sanitize your hand! Wear a mask if needed.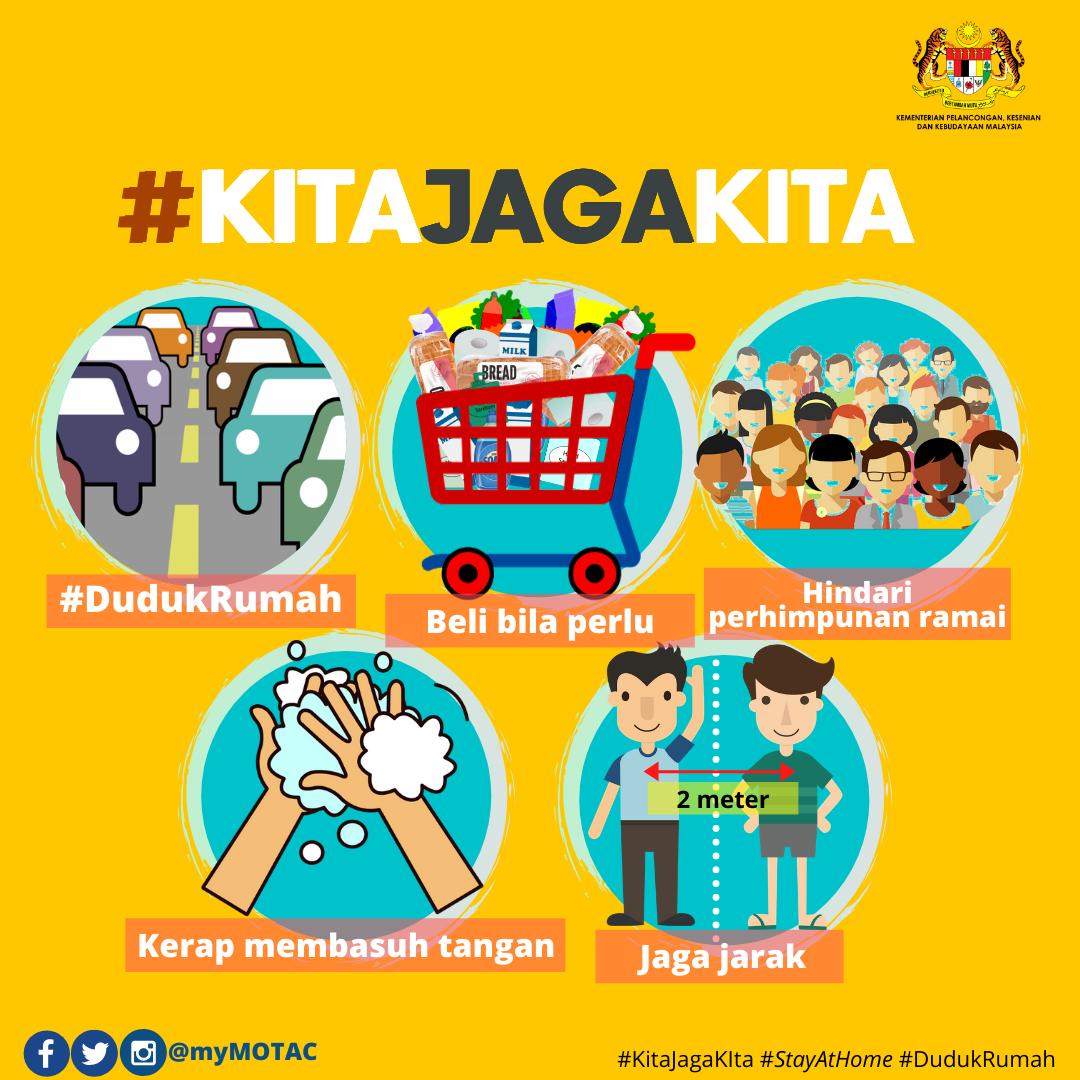 All in all, I pray that this
COVID-19 Pandemic
will be over soon. Not just for Malaysia, but the whole world. I heard that China is getting better day by day, which is good. Italy is not getting much better yet, sadly. Please don't stop praying for Malaysia and the world. Hopefully everything will be back to normal soon, at least, before Ramadan. Aamiin inshaAllah.
💓 #StayAtHome #DudukRumah #KitaJagaKita 💓